We have just released an update to Naview with several improvements:
Subscribe for one month only
Some of our customers only work on information architecture projects occasionally, which means that an ongoing subscription is not ideal. We have addressed this by adding a new one-month subscription option on the signup page: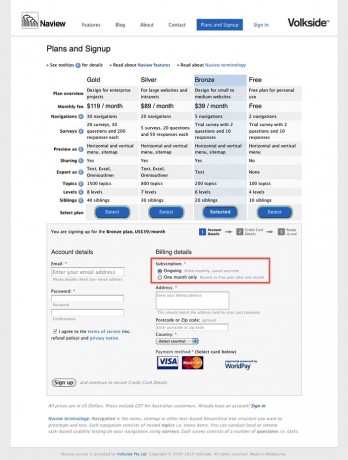 This is exactly the same as the regular ongoing subscription, except that it's not recurring and you will not be billed again. Ongoing subscription is still recommended for most customers – remember that you can cancel your subscription at any time.
With both subscription options your plan will revert to the Free plan at the end of the subscription period. We may introduce slightly different pricing for each subscription option later on but for now the monthly fee is the same.
We hope the new one-month subscription helps freelancers and smaller agencies to create easier navigations through prototyping and testing!
Resetting a published survey
When using Naview for usability testing your IA you should always complete the survey yourself first, before sending it out to your target audience. This has always been possible using the survey preview function, which does not collect the responses.
Sometimes though you may want to run a preliminary pilot survey, and clear the results after a cursory review. This is now possible:
Author your navigation and survey as usual
Publish your survey and let your pilot users complete it
Review the 'draft' results
Reset the survey and let your actual target audience complete it.
The reset link is available on the survey results screen for published surveys:
Please be extra careful, as resetting will permanently clear all previous responses to this survey. You will need to acknowledge a confirmation dialog to complete the reset.
Other improvements
This new version of Naview has a host of other improvements, too:
You can publish or close a survey directly in the results view – see above screenshot
You can duplicate a survey directly on the All surveys screen – select Copy icon in the Edit column. *
Added extra prompts and sidebar tips to guide you through authoring your survey
Improved the signup page with terminology description and other tips
Improved processing of credit cards authorised in non-USD currencies
Ah yes, Naview is now finally out of beta, too 🙂
* Note: Once a survey has been added for navigation, the two are permanently linked and operations such as Copy and Delete apply to both.
In closing
We'd like to thank our good friends over at Peak Usability for their numerous comments and suggestions on how to make Naview better.
We hope you enjoy this new version and keep us posted with your feedback!
This post last updated on 1 Apr 2011
Tags: application update, new features, news, special offers, update